Jule Event 2023
KOM TIL ÅRETS JULE EVENT I KREA DELUXE
Lørdag d. 2. december kl. 10.00-15.00

Vi inviterer indenfor i vores showroom som vil emme hyggelig julestemning. Kom forbi og bliv inspireret til julens strik og hækling og deltag i vores jule hækleworkshop. (Kræver tilmelding)
Vi byder på lidt lækre julegodter samt kolde og varme drikkevarer.

GLÆD DIG TIL: Julehygge, mulighed for strikke- og hækle support, shop i butikken, se alle nyhederne, gave til dig, når du shopper for min. 500 kr. samt særlige Jule Event tilbud.

Det hele foregår i vores Showroom og butik i Haslev
Krea Deluxe
Houmannsvej 4a
4690 Haslev

Der er Parkering i gården og lige rundt om hjørnet på Energivej.
Tog- og Busstation er kun 200 meter fra Krea Deluxe.
Barnevogne og kørestole kan fint komme rundt, dog er toilettet på 1. sal

Vi glæder os til at se dig
Krea Deluxe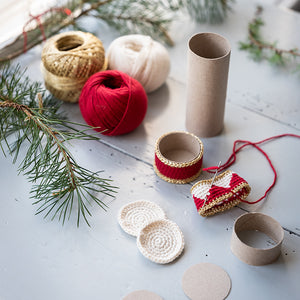 Hækle workshop
Julehækling Lørdag kl. 11.00-13.00:
Vi hækler Julepynt med udgangspunkt i Årets mandelgave 2023 og klassiske trommer.

Pia H.H. Johannesen står for undervisningen og vil hjælpe dig med at forfine dine teknikker og hjælpe dig godt i gang med et af de to projekter, som du har mulighed for at starte op på til workshoppen.

Vi sætter fokus på to slags hæklet julepynt:
Årets mandelgave 2023 og Hæklede klassiske trommer.
Du får en grundig gennemgang af begge projekter og herunder gode fif til at få gode hækleresultater.

Vælg hvilken af de to typer julepynt du vil arbejde med på workshoppen. Opskriften får du med dig hjem, og garnet du arbejder med under workshoppen stiller vi til rådighed.

Medbring gerne hæklenål.

Tilmelding
Vi åbner for tilmelding onsdag d. 15. november kl 12.00.

Kom og oplev
Shopping, tilbud, gave til dig
SHOP I BUTIKKEN
Oplev vores udvalg af garn og kits, og se vores strikkede og hæklede modeller - inklusiv alle nyhederne.

Vi har særlige tilbud i butikken, som kun gælder i denne weekend.



GAVE TIL DIG
Når du handler for mere end 500 kr, får du en lille Krea Deluxe gave med hjem denne dag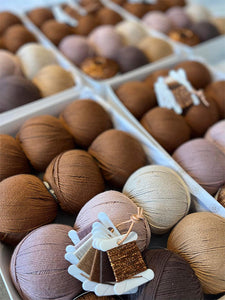 Tilmeld dig vores
Nyhedsmail
Hold dig opdateret på nyheder, events og tilbud via vores nyhedsmail.